Big Dog and Tiny Dog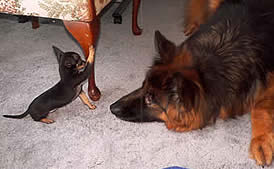 John and Marg Coombs have a new addition. Maggie, the Chihuahua,
is working on Baron's manners.
Our New Puppy!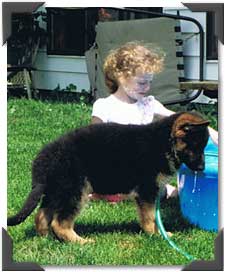 Congratulations to Kim and her family. Their Kola/Degen puppy already loves his new home.
Rocky's family gets a new puppy.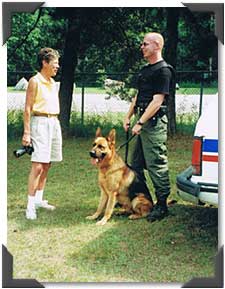 Our contribution to law and order in Ontario was 'Rocky'. He and his policeman partner have kept us safe.
Now, Rocky is retired and his human family has a new Rivergreen puppy. Samantha is the assigned 'trainer'. Have fun everyone.
Rivergreen 'old boys' - Krypton Lex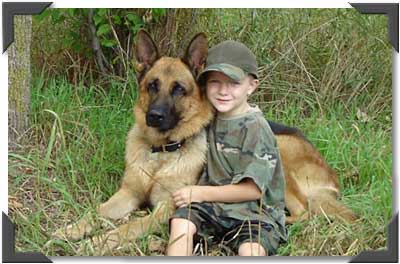 "Lex is doing fantastic. He is a real character and we love him,
couldn't ask for a better dog!"
Krypton Lex is the litter brother of our breeding female Kola vom Rivergreen and of V Karsh vom Rivergreen SchH3 - Portugal.
The Richardson Family and 'Grand Toby'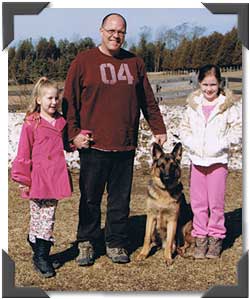 After a 'teen age rebellious phase', Toby is the perfect gentleman and family companion. Good work, David and all.
More 'old boys' from Rivergreen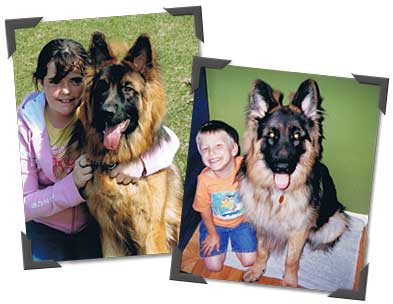 Long coat shepherds, Jacob and Zack, loved by Maria and Christian and their families.
Our 'Windsor' connection. Another wonderful dog from Rivergreen.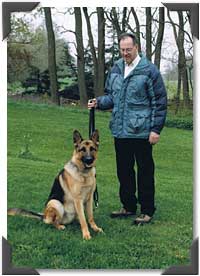 Farley, a handsome Spitz / Degen son owned and trained by Gary Thompson.
It's worth the drive.
Training Successes!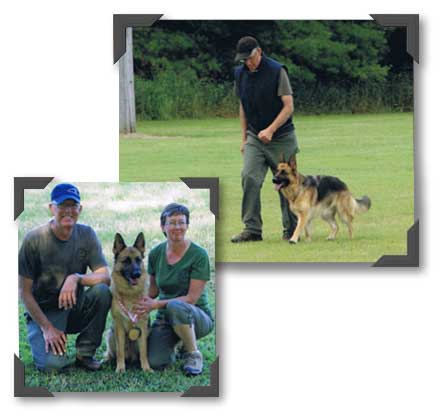 Congratulations to Algonquin vom Rivergreen. 'Ali' has successfully worked with BOTH Brad and Vicki Findlay. She passed her AD (20 kms, Vicki on a bike, Ali beside) and her BH with Brad (an obedience test equivalent to the Companion Dog CKC test).
The Chezzi 'retirement project'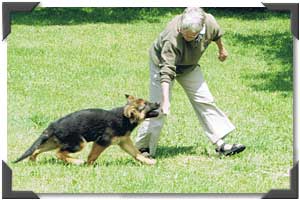 Congratulations to Gary and Linda on their purchase of a beautiful Rivergreen female (Degen v Bellanagara and Unice v Fidelius) Karma v Rivergreen promises to be a fun retirement project.