SchH 1, TD !!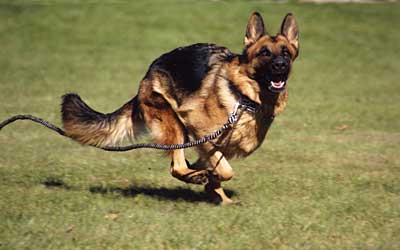 Congratulations to Algonquin vom Rivergreen (Ali) and handler/trainer, Vicki.
Lots of patience, hours of travel, and persistence. Hurrah to both.
SchH 1, TD !!!
Ali is a daughter of Kola vom Rivergreen IPO1 and Illo vom Falkensee SchH3.
Picture by Vicki.
Cody and Jake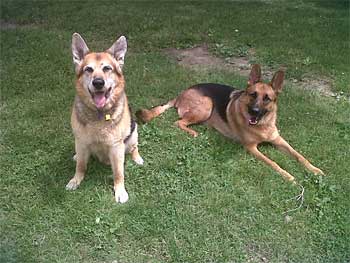 Rivergreen was honoured to meet Cody. Jake was luck to have him as a best friend.
He was Lynn's companion for more than 15 years.
Congratulations Lynn and Jake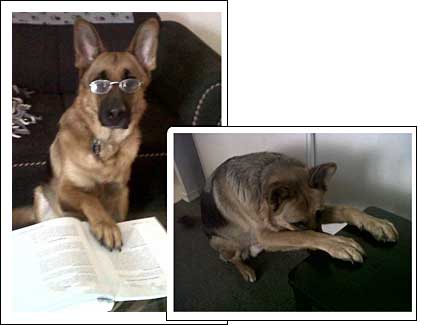 Jake is a master "trick dog" and Lynn a master trainer. jake is saying a prayer for his mother, Spotz, and his best friend Cody.
HERDING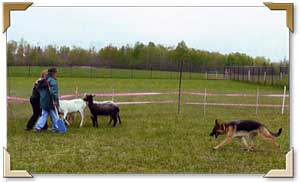 Rivergreen shepherds are loyal companions, enthusiastic students of whatever program is planned for them. The 'balanced' German Shepherd. 'Cali', a natural herding dog.
DI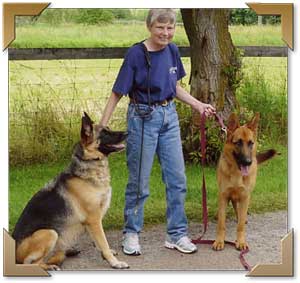 Farm dogs extraordinaire! Ricco vom Rivergreen (Rivergreen Spitzfire/Fynn von Emeritus) and Zephyr (Illo vom Falkensee).
RENPENNING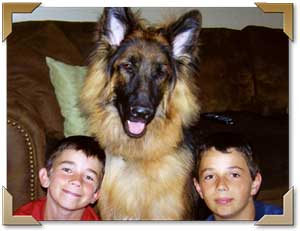 Renpenning boys and their dog. Gage (Viva v Radhaus/Jerro vom Nordsee Sturm).
WARDS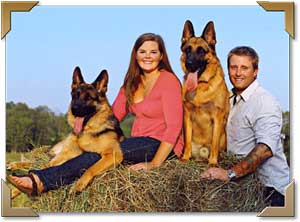 Congratulations, again. The Ward family now has one more wonderful Rivergreen dog to join Wyatt, Maverick, Julian. Their new Jerro vom Nordsee Sturm/Unice von Fidelius puppy goes to his new home mid May, 2011.