Diana vom Glemstall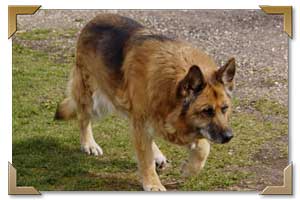 Rivergreen's first REAL German/German Shepherd. Pictured here at 16 years on her last 'hunt'. Diana was our foundation female initiating a strong female line that we are grateful for.
Barbie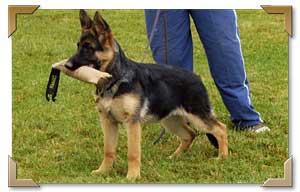 One of our upcoming breeding females in her younger days. Barbie wishes she could be an agility dog.
SONJA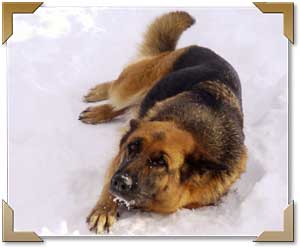 Sonja von Jabora (full sister to the highly placed Dux von Jabora) enjoying the winter. Sonja is our best Maffay von Arminius daughter. We expect puppies by Conner vom Bauhofer-Land in May, 2011.

Conner vom Bauhofer-Land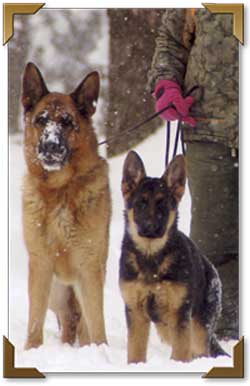 Conner vom Bauhofer-Land, ever patient. Conner is the puppy socializer. Pictured here with our Tyson vom Kottersbusch son, Schad vom Rivergreen.
Lucille vom Rivergreen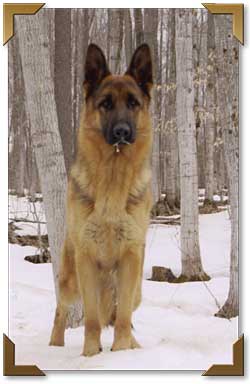 Always busy and alert – Lucille vom Rivergreen (Jerro vom Nordsee Sturm/Sonja von Jabora).
ULYSSES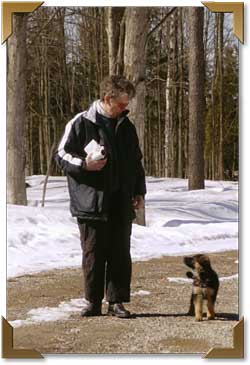 Puppy training begins early. Ulysses vom Rivergreen (Sina Poxdorfer Tannenhof/Degen of Bellanagara) at 7 weeks. Congratulations to Deb Hoffman. A great puppy and a great home.