V1 Iman vom Heerbusch IPO2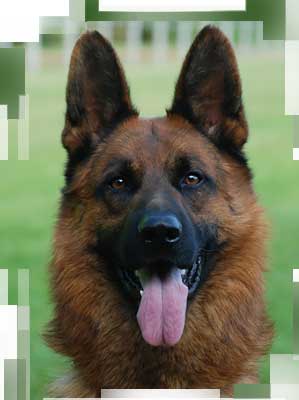 Iman is possibly the only direct Remo son available to breeders in Canada. His father, VA Remo vom Fichtenschlag IPO3, is the 2x world champion at the German
Sieger Show. Iman's mother, V Clea vom Konigsadler IPO2, is the mother of the 2013-14 VA male, VA Ballack von der Brucknerallee IPO3.
Iman is an exceptional individual and comes from an exceptional, world class family.
Iman vom Heerbusch comes to Rivergreen to continue our efforts to produce the 'balanced' German Shepherd. He has an impressive show career – V1 Belgium,
V3 Germany (in a strongly competitive class with Sieger Show entries), V4 Spain and V1 Canada. But these show results are supported by an honest IPO2 title.
High scores in all three phases – tracking, obedience and protection – were honestly earned in well attended trials.
Iman has his breed survey 'for life'.
Iman also offers documented excellent health. He is DM clear, his hips and elbows are 'a' normal. We trust that the same good health will be passed on to
his puppies. His first Canadian puppies are due early 2015 and we expect they will have the very red and black colouring of their father and his
happy, social and confident temperament.